Metal Cellar Grate Cover
3 Comments
23 September 2014 |
Admin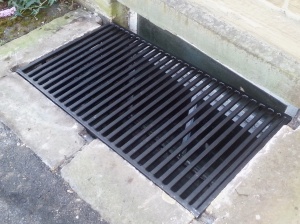 We recently made this metal cellar grate for a property in Brighouse. The cellar grate 4ft x 2ft opening and was made from 20mm square section which was hot dip galvanised to stop rust.
We made sure that the grate was bolted in from the underneath to prevent it being stolen.
The cost of this was £200 plus Vat.
If you require a bespoke cellar grate like the one above please contact us.